What my autistic child eats on a daily basis
Some of the meals that I feed my autistic child on a daily basis. In this blog post, I'm gonna be sharing with you, "what I feed my autistic child on a daily basis".
If you're a parent of an autistic toddler or preschooler who wants to gain a better quality of life. Don't forget to subscribe to my YouTube channel, give it a thumbs up and ring the bell so that you will be notified of future videos.
I would like to start by saying that feeding your child healthy food does not have to be difficult. It can be so simple, it just takes you to make the effort to do it.
I normally aim for carb, fat, protein in each meal that I feed my child. It doesn't have to be extravagant. You just want to make sure you're feeding your child healthy fat, healthy carb, and healthy protein.
I know you may already be implementing a dairy-free, gluten-free diet for your child. Some of you may find it difficult to change your child's diet.  If you are having difficulties, take a look at what might be causing this.  You can make eating healthy as easy or you can make it difficult.  One simple technique that you can use is batch cooking.  Simply pre-make foods that your child enjoys and put them in the freezer.  Whenever you are ready to eat what you have frozen just take it out and you can have it for breakfast, lunch, or dinner.
I'm going to share with you a picture of a healthy breakfast.
#1 Breakfast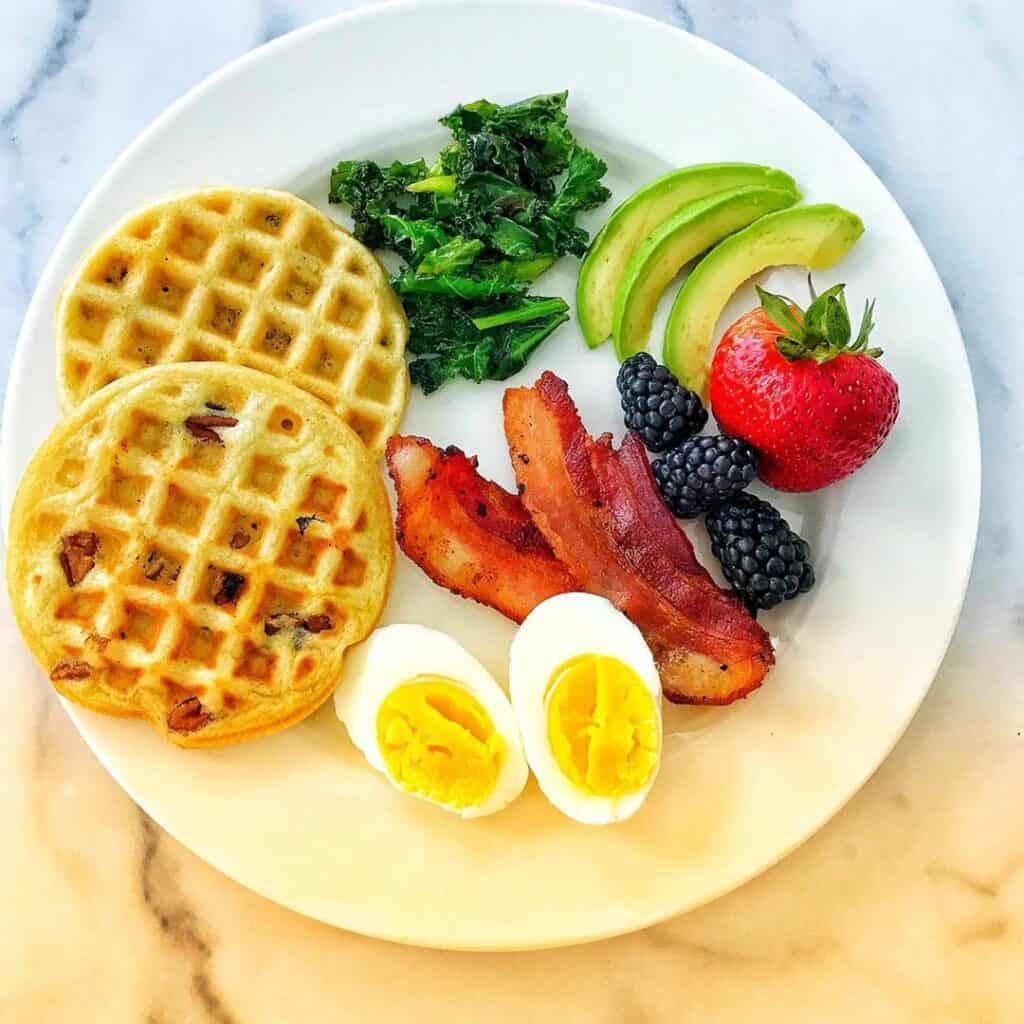 This picture is a picture of homemade grain-free waffles, eggs, bacon, fruit, and kale. Now, I might have gone overboard with this because I had extra kale in the house that I wanted to get rid of.
I would probably leave out the kale and have either kale or avocado instead of both since both are green.  I often switch things up for my kids to keep them interested.
Tomorrow I may decide to feed my kids yogurt, eggs with kale, and protein.  I switch it up every day if I can just to keep my kids interested in the new food.
For you, it could be as simple as making some foods, your kids enjoy eating and placing them in the freezer for future consumption.
I would like to hear from you in the comments, do you find it difficult to find out what to feed your child that is nutritious? Do you find it hard trying to find a healthy protein, carb, and healthy fat to give your child? If so, tell me what struggles you're having in the comments. I would love to hear them.
#2 Lunch
Lunch is pretty simple. You don't want to spend too much time making lunch if you don't have to because we spend more time in the kitchen for dinner.  Therefore, you can make lunch super quick.
Here's a picture of a healthy lunch.  Pictured below is a wrap with a side of kale, carrots, and peppers, and some fruit which is cherries and lime.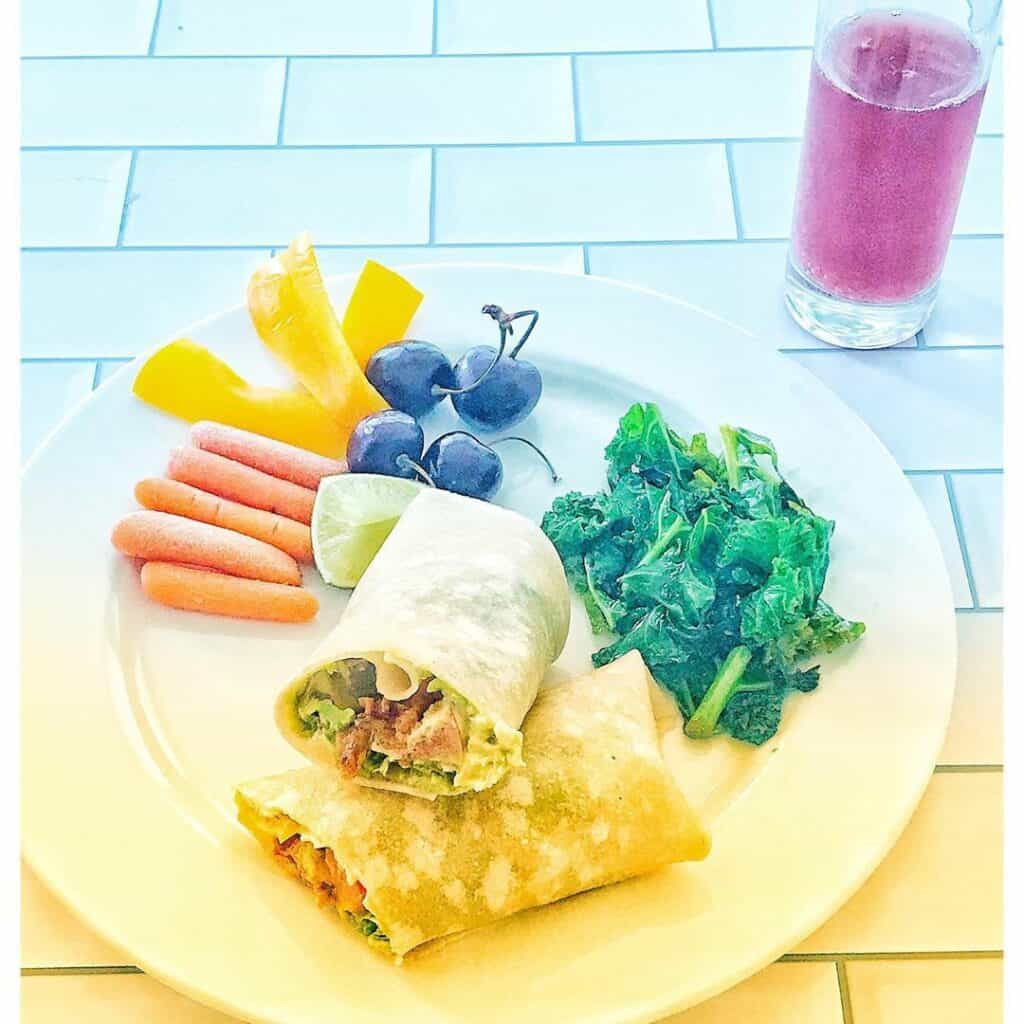 So, what I did for this meal is, I looked in my refrigerator and took out what I had, and put it together. I always keep carrots in my house. I always keep sweet peppers because my kids love to eat peppers and tomatoes.
I keep a large variety of healthy vegetables in my refrigerator to add to my kid's lunch throughout the week.
Kale sometimes goes bad fast. So, I make it for lunch and sometimes make it for breakfast to prevent it from going bad.
For the wrap, it is a grain-free wrap. I've used Siete wraps recently and they taste amazing and they're easy to make up quickly.
So, I grab some Siete wraps, and then I actually look in the refrigerator and see what protein I have, and the healthy fat I have.
For this wrap, I added bacon to it so I made it like a BLT, so we have bacon, lettuce, tomato, and avocado in the wrap.
I add mayo, mustard and the kids love kombucha so I have a side of kombucha for their beverage.
As you can see, this is an example of a lunch that is quick and easy but still provides nutritional value.
Let's get to dinner.
#3 Dinner
Here's a picture of a healthy dinner.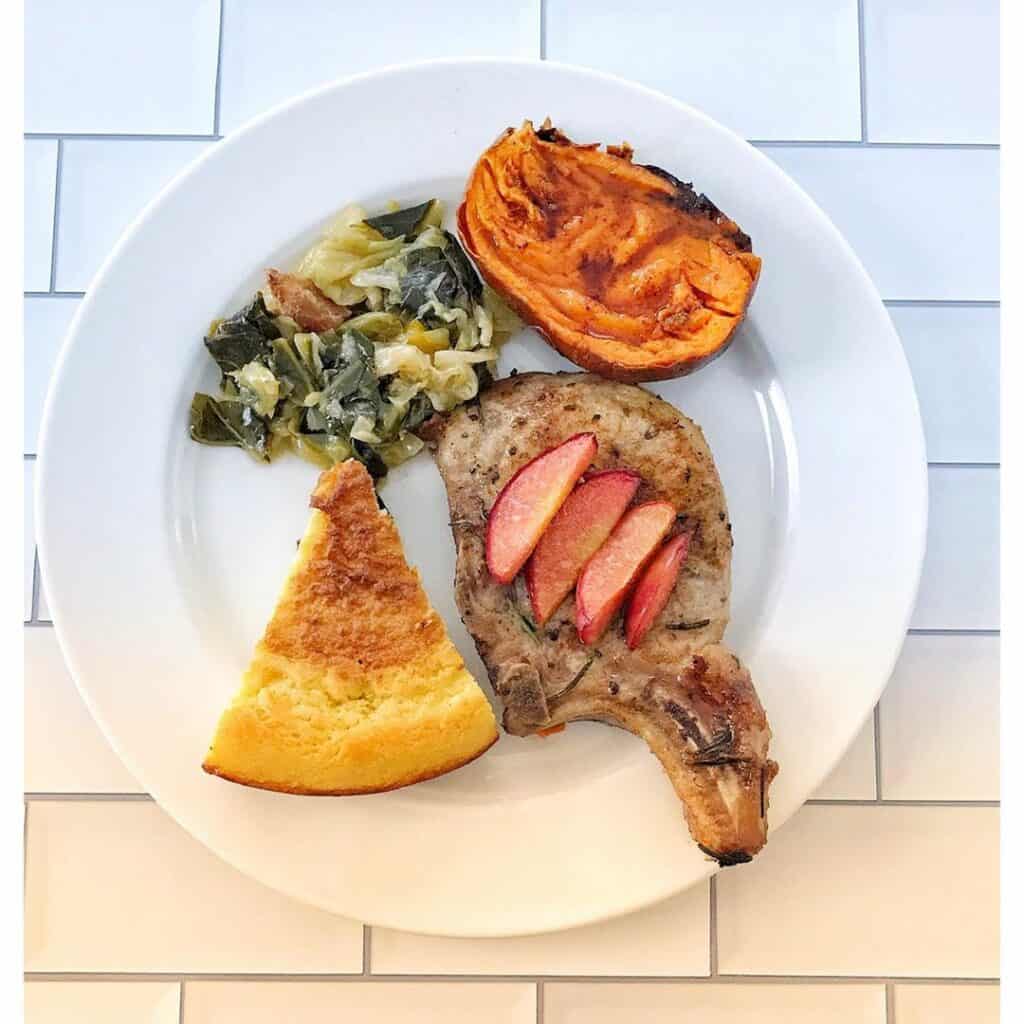 As you can see, we have a pork chop, topped with peaches, smothered cabbage with collard greens, sweet potato, and grain-free cornbread. This is a simple meal that still provides my son with nutritional value.
All that was required was for me to put a potato oven, saute up some cabbage and collard greens and I made a pan of grain-free cornbread.  I cooked the pork chop on the stove in some olive oil and cut up some peaches to add to the top.
Here's a tip with the cornbread, if you are not a person that likes to cook and be in the kitchen a lot. You can make cornbread ahead and freeze it whenever you have dinner.
This bread would have done just as good if I had made it ahead of time and froze. Since my entire family is almost grain-free what I've been doing is just making a batch at a time. You don't have to make cooking difficult, it's as easy as you want it to be.
#4 Snack
Let's go-to snacks.  Below is a picture of a healthy snack.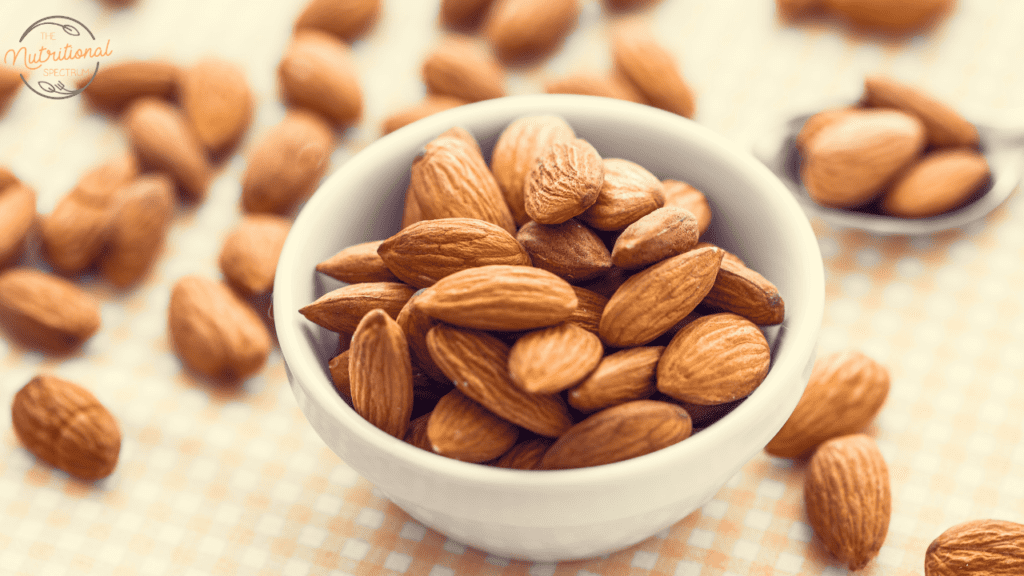 What I aim for snacks is making sure I have some type of protein for my son, fiber, and healthy fat. I mix up snacks a lot for my kids.
An example of a healthier snack might be sliced apple fries with almond butter on the side for dipping.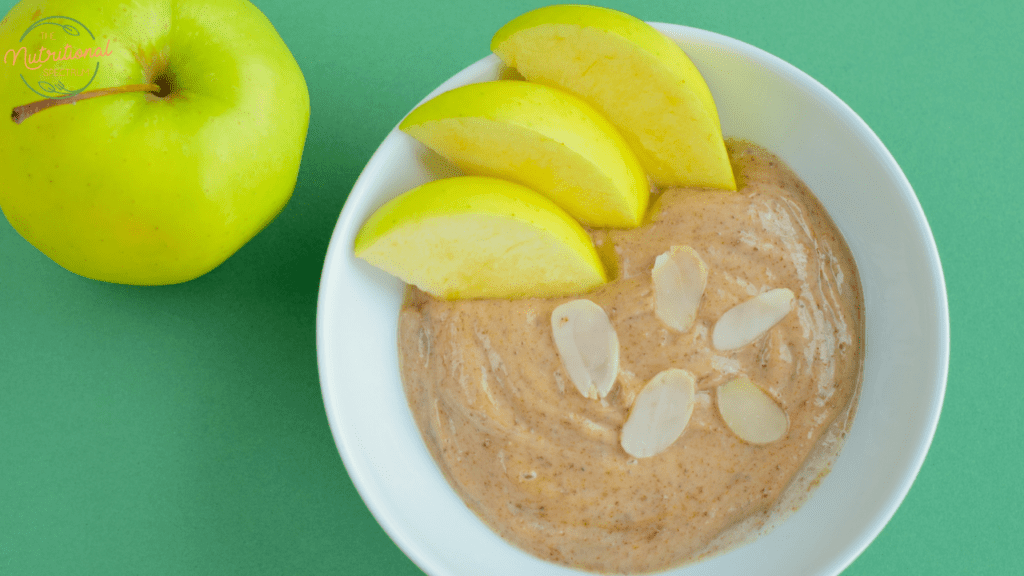 Another snack might be some grapes with cashews on the side.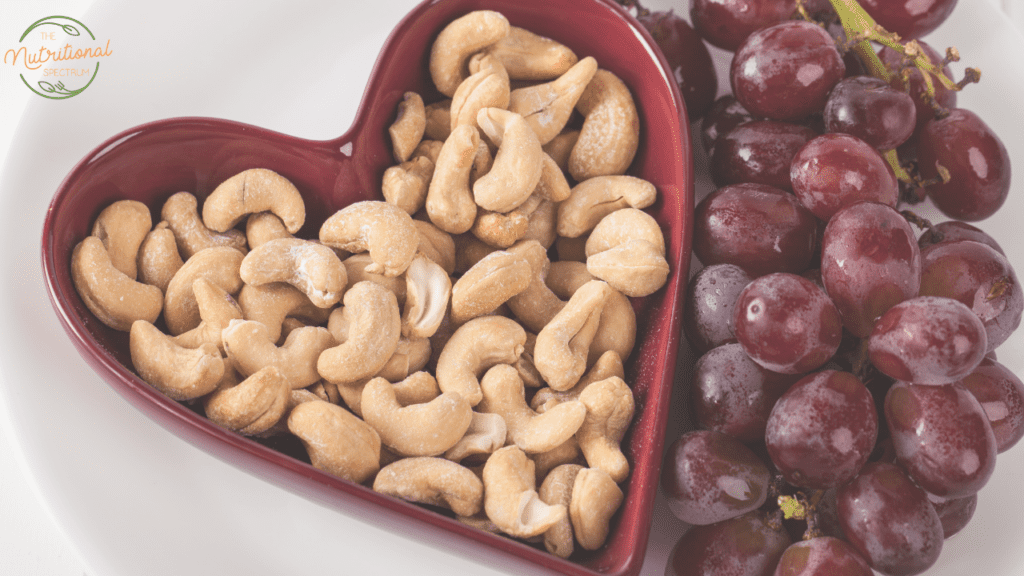 I might do a muffin one day for my son with peanut butter or almond butter on it.
There are options out there that you can get from the store, but, you want to stay away from processed foods as much as possible.
As you can see feeding your child healthy does not have to be difficult it's only difficult if you make it difficult.
I believe feeding your child healthy foods will lead to a better quality of life. That's why I created this blog to show you how simple it can be to add variety to your child's diet and feed them healthy food. I have created a free download for you that includes several nutrient-rich foods you can feed your child on the autism spectrum below. Sign up for my newsletter and you will receive this download.
If this blog was helpful to you, be sure to share, subscribe to my channel, like the video, and ring the bell that way you will be notified of future videos. I am truly excited to be a part of your autism journey and I hope to see you in future videos but until then never give up because your quality of life truly matters.
Thank you!
Contact me here If you are interested in this program, send me a message and we'll chat. If so, we can get started right away, helping your child gain a better quality of life.