Bioray Products for Kids: Navigating Negative Behaviors
Being a mom of a child with autism, ADHD, or behavioral issues can be overwhelming, particularly when it comes to finding safe and natural remedies to support your child's health and well-being.
That's where Bioray Kids comes in – a company that specializes in crafting herbal liquid formulas that are safe for adults and kids.
You might have been searching for a more natural solution to your child's behavioral problems and have not found anything that truly works.
This is the area where Bioray really stands out because they offer a wide selection of products specifically crafted for children, ranging from calming and soothing solutions to formulas that focus on supporting mental balance and emotional regulation.
In this post, I want to explore the Bioray products for kids, focusing on the key products that are most beneficial for supporting your child's behavior and overall health.
Bioray Kids Product Line
Bioray Kids offers a diverse range of liquid herbal formulas that are easy for kids to take and designed to support their unique needs.
The product line includes Bioray Kids Calm, Bioray Tummy, Bioray Focus, Bioray Happy, Bioray Immune, Bioray Sleepy, and Bioray Pooper.
While all of these formulas offer different benefits, they all work toward the common goal of helping your child thrive.
Each product is designed with specific herbs and minerals that naturally support the body systems, targeting common behavioral health issues like anxiety, stress, digestive problems, focus and attention, immunity, sleep patterns, and more.
I want to take some time to go more in detail on each of these products so you can feel confident giving your child the best support possible.
Disclosure: There are affiliate links in this post. If you click the link and buy something, I might get a commission at no additional cost to you! This is what keeps this blog running so consider using these links if you decide to try any of my recommendations.
Bioray Focus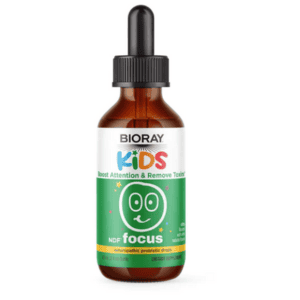 Of the Bioray Kids product range, Bioray Focus is one of the most popular among many parents.

This potent formula is specifically crafted to enhance cognitive function, concentration, attention, and mental clarity in kids.
It contains unique ingredients such as micronized chlorella, Solomon seal root, eleuthero root, reishi mushroom, milk thistle, schizandra berries, and several other active ingredients blended to create a synergistic effect that supports optimal brain function in kids.
The presence of these ingredients makes Bioray Focus stand out from other similar products available in the market.
Bioray Calm
Bioray Calm is another product that is helpful for kids experiencing anxiousness, nervousness, or agitated behavior.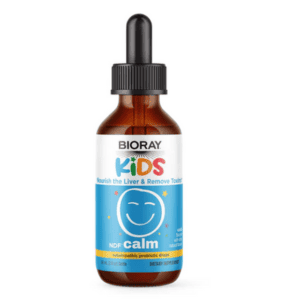 Stress in children can manifest in different ways, from meltdowns to difficulty sleeping, or even digestive issues.
Bioray Kids Calm formula helps to ease tensions and provide a sense of calmness to your child's body, without causing drowsiness.
Bioray Kids Calm product is formulated with a unique blend of mushrooms such as Agaricus Blacei, Maitake, Reishi, and Coriolus, each contributing their unique health properties.
Bioray Tummy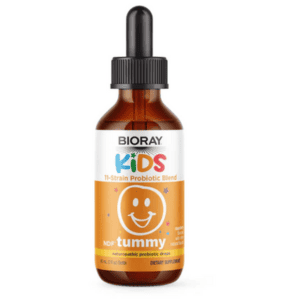 Bioray Tummy is formulated to support overall digestive health in children.
It's perfect for kids who suffer from belly pain, bloating, or irregular bowel movements.
This formula contains ingredients such as lactobacillus rhamnosus, lactobacillus plantarum, bifidobacterium bifidum, and lactobacillus casei which all can help to soothe digestive discomfort and promote healthy digestion.
Bioray Happy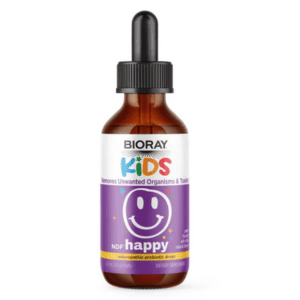 Bioray Happy is a mood-enhancing formula created to support emotional balance and well-being in kids, making it perfect for those who experience mood swings, angry outbursts, or sadness.
It contains lion main, green walnut hull, clove, wormwood, and other herbs, which help children to cope better with stressful situations and improve their overall outlook on life.
Bioray Immune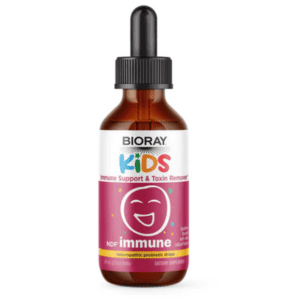 Bioray Immune is formulated to support a child's immune system and strengthen their overall resistance to illnesses.
It helps to ease discomfort in the chest, support an itchy throat, decrease coughing, resolve phlegm, and support your child's overall immune system.
It contains herbs like camu camu, elderberry, mulberry, and houttuynia, as well as other herbs that have been known to boost immunity and support your child's defense system.
Bioray Sleepy
Similarly, Bioray Sleepy is designed to aid children experiencing sleep difficulties.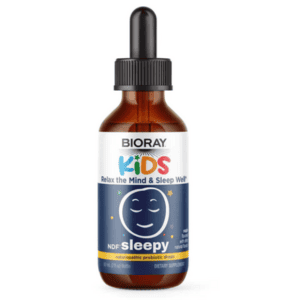 The combination of licorice root, dan shen, silk tree, and red jujube helps to ease the body and soothe the mind.
As a result, your child can fall asleep and stay asleep without waking up in the middle of the night.
Bioray Pooper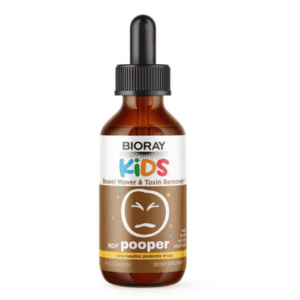 Lastly, Bioray Pooper is the perfect solution for children who suffer from constipation, or irregular bowel movements.
This formula contains herbs like Linum, white peony, rhubarb & bitter orange, and American ginseng root that help to promote regularity and softer stools.
Bioray Infant Line | Bioray NDF Colic Relief
The Bioray Infant range includes a solution for the littlest members of your family – Bioray NDF Colic Relief.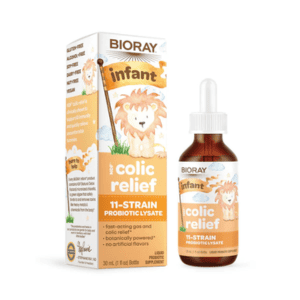 Specifically designed for infants, this formula is a lifesaver for parents dealing with the distress of colic.
It contains a proprietary blend of Probiotics and micronized chlorella along with other active ingredients, which work together to alleviate the symptoms of colic.
It aids in reducing fussiness and discomfort associated with gas, colic, and hiccups in infants.
The carefully selected ingredients ensure it's gentle for your baby's delicate digestive system while offering effective relief from colic symptoms.
Bioray NDF Colic Relief is specifically formulated for newborns and infants up to 12 months old.
In conclusion, Bioray Kids offers a diverse range of herbal liquid formulas that cater to different aspects of a child's health and well-being.
Bioray Focus, Calm, Tummy, Happy, Immune, Sleepy, and Pooper are specifically designed to support children's unique health needs.
You can trust that these formulas are safe and effective for their children, and they'll be pleasantly surprised at how easy they are to administer.
Give your child the support they need for optimal health with the Bioray Kids product range.
Bioray Adult / Teens Product line
In this blog post, I didn't delve into the vast range of adult and teen products offered by Bioray.
However, Bioray has a wide selection of products for adults and teens.
From liver-supporting formulas to mood and energy-boosting supplements, this line of products can provide the perfect balance of natural healing for adults and teenagers alike.
Whether your needs are physical or emotional, Bioray has you covered. So make sure to check out all the incredible products they have to offer for adults and teens as well.
Personal Bioray Review
As a parent who has used most of the Bioray products, I can wholeheartedly attest to their efficacy and the significant improvements they've brought to my child's well-being.
Each formula, be it Bioray Focus, Calm, Tummy, Happy, Immune, Sleepy, or Pooper, has been specifically designed to cater to unique health needs, and they have all lived up to their promises.
The ease of administering these liquid herbal formulas and their natural composition are additional bonuses that make Bioray Kids an exceptional choice for parents.
I am genuinely thankful to Bioray Kids for developing a product line that is safe, natural, and effective for children.
This has brought about not just better health and behavior for my child, but also peace of mind for me as a parent.
I am completely sold on these products and would highly recommend them to other parents seeking natural remedies for their kids' developmental and behavioral needs.
If you are interested in trying any Bioray products you can use code TNS10 and receive 10% OFF.
Additional Resource:
If you find Bioray Products for Kids helpful. Leave a comment below.