Last updated on May 22nd, 2023 at 01:47 pm
Best Breakfast with Kids | Quick and Easy
Mornings can be chaotic, especially when you have kids.
Trying to get breakfast ready before running out the door with them is a challenge in itself.
But it doesn't have to be!
All it takes is a little preparation and planning to make a healthy breakfast for your child.
In this blog post, I'm here to show you that there are some quick and easy breakfast solutions that your family will love.
I'm sharing all the best ideas for fast breakfasts so that mealtime can become less overwhelming for busy moms!
So let's dive into these tasty solutions now!
Healthy Best Breakfast with kids Ideas
Planning healthy breakfast meals for the family can be tricky, especially when trying to accommodate picky eaters in the mix!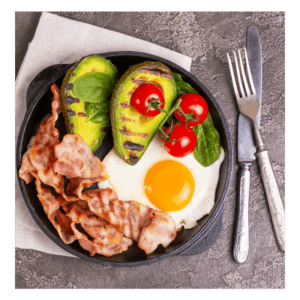 It's important to make sure that your kids are getting the proper nutrients they need to focus and excel in the day ahead.
If you have trouble coming up with healthy breakfast ideas for kids, there are plenty of easy and quick options available.
Keeping breakfast lower in carbs but higher in protein and healthy fats will help your child have sustained energy throughout the morning.
Many kids are being fed sugar-filled breakfasts with little to no protein and fat which in turn cause mid-morning crashes.
If your child is having difficulties focusing in school, staying on task, or having behavioral issues try monitoring what you are feeding your child for breakfast more closely.
High Protein Foods for best breakfast with Kids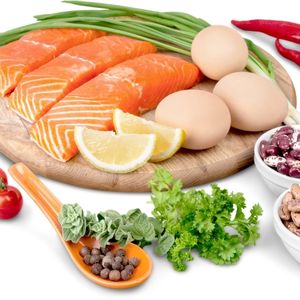 For a fast and nutritious start to the day, eggs are a great high-protein food for kids.
Whether your kiddos like scrambled eggs, boiled eggs, deviled eggs, or even egg-based pancakes and waffles, eggs provide a tasty, quick, and easy way to make sure the little ones are energized for whatever the day may bring.
Plus eggs contain essential vitamins and minerals which can help support their growing bodies.
A breakfast with eggs makes for happy and healthy kids!
Adding in a few chunks of cooked chicken or turkey is also an excellent way to ensure your child has enough protein to get them through the day.
Some kids have allergies to chicken eggs. In that case, they can enjoy trying other eggs such as duck or quail eggs instead.
Using eggs and making omelets are great ways to boost the protein content of breakfast.
In addition to protein, healthy fats are important for maintaining energy and providing the essential fatty acids needed for optimal brain development.
Avocado, olive oil, nuts and seeds are great sources of healthy fats that will help your child stay full longer and provide balanced energy throughout the day.
By including a combination of these foods into your child's breakfast, they can start their day on the right foot and have enough fuel to carry them through until lunchtime.
Including healthy fats throughout the day is also a great way to make sure your child's diet remains balanced and nutritious.
How Much Protein is in an Egg?
An egg can provide six grams of protein. The protein content in an egg also contains all nine essential amino acids, making it a great source of complete protein — something that's more scarce in plants than meats.
But don't forget about egg whites, which hold around 60% of their protein content in them. So if you're looking for a great source of lean protein, egg whites are the way to go!
Making eggs a regular part of your child's diet is an easy and nutritious way to ensure their health.
Plus, they can be prepared in so many different ways that it's easy to make them fun and exciting.
If you're looking for an easy way to get some extra protein into your kid's diet, try cracking an egg or two!
The possibilities are virtually endless regarding delicious recipes with eggs—and not just for breakfast either!
What are Good Quick Breakfast Ideas for Kids?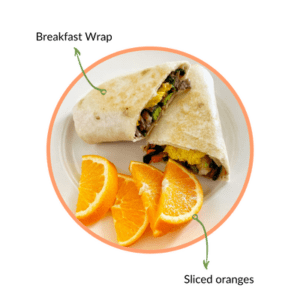 Breakfast wraps, breakfast burritos, egg muffins, and mini-quiches are all great ideas for a quick and delicious breakfast.
You can make these ahead of time and even freeze them so you can save time in the morning.
Another idea is to try using additional egg whites for even more protein in the wrap.
Scrambled eggs with toast or a breakfast sandwich are also great easy options that your kids will love.
Add in extra avocado on the sandwich for an extra boost of healthy fat.
For those kids that are not dairy-sensitive, greek yogurt topped with berries & nuts is a simple option.
Greek yogurt is high in protein to keep your little ones full throughout the morning.
Cottage cheese can also be used similarly to a greek yogurt for those kids that are not dairy sensitive.
For those kids that are not able to consume dairy a coconut-based yogurt is a great option to use.
When selecting yogurt, make sure you are not selecting yogurt that has added sugars because that can be problematic for your child.
There are so many creative ways to make breakfast fun and nutritious for your kids!
Try switching up the ingredients each week and have your child help out in the kitchen to make it more enjoyable.
When time is limited, opt for simple options that you can make ahead so that your child will still have a breakfast that prevents mid-morning crashes.
Overnight oats can also be packed full of nutritious ingredients like nuts, fruits, and yogurt.
I do want to caution you when it comes to oatmeal because many options available today are loaded with excess sugar.
If you are going to use oatmeal for your child, I suggest you make it at home and sweeten it with fruit and/or a little honey.
There are so many other fun breakfast ideas that you can try for your child egg muffins and breakfast tacos!
Whether you have limited time before school or the little ones are just not morning people, these healthy breakfast ideas are sure to solve your breakfast dilemmas.
From simple egg muffins to healthy breakfast sandwiches, there's something that's guaranteed to satisfy even the pickiest eater in your household.
Plus, most of these options can be prepped in advance for a fast and easy meal every morning.
Breakfast doesn't have to be boring and unappetizing if you plan!
Take some time to explore the breakfast recipes available and get creative in the kitchen.
Meal Prep Ideas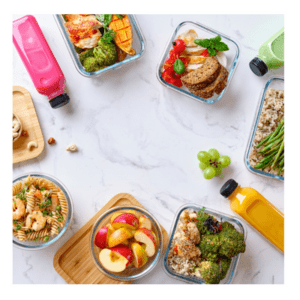 Looking for ideas to help make meal prep easier and faster?
Look no further – with a bit of creativity and planning, making meals ahead of time for your kids can become a breeze.
Try simple things like prepping fruits and vegetables the night before or making overnight oat bowls — there are tons of recipes available online that require minimal effort.
You can also try creating freezer-friendly meals that you can simply pop into the oven when you wake up.
You can also make breakfast burritos or smoothie bowls in advance and store them in the refrigerator for days. This allows you to prepare breakfast quickly in the morning with minimal time.
Meal prepping may not be everyone's favorite activity, but it is worth it when you don't have to spend too much time in the kitchen on busy mornings.
By taking a few extra steps each day, you can have a delicious and nutritious breakfast prepped in advance that your child will enjoy.
Disclosure: There are affiliate links in this post. If you click the link and buy something, I might get a commission at no additional cost to you! This is what keeps this blog running so consider using these links if you decide to try any of my recommendations.
Butcherbox – Is a Butcher Box a Good Deal?
If you are looking for a way to save time in the grocery stores, Butcher Box might be a great option for you.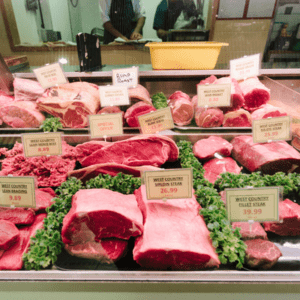 Butcher Box offers grass-fed, organic meats and fish delivered straight to your door!
This way, you can easily stock up on healthy food and avoid trips to the grocery store. Plus, they offer discounts when you sign up or refer a friend!
If you're looking to save time and money while still eating healthy, Butcher Box might be the perfect option for you.
With this subscription service, you have the convenience of having delicious, organic, and grass-fed beef, pork, and chicken straight to your door.
Butcher box promises high-quality proteins at a great price point making it an excellent deal for busy parents who don't want to sacrifice quality for affordability.
Thrive Market
Thrive Market is another great option for saving time in the grocery store.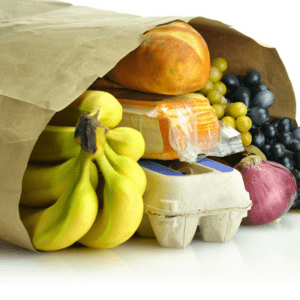 This online market allows you to purchase organic, sustainable, and non-GMO food items at discounted prices.
They offer a wide variety of organic, non-GMO products from top brands, so you can have confidence in what you're giving your family.
Plus, Thrive Market has an excellent membership program that gives members access to even more savings on top of the already discounted prices.
Thrive Market is well worth a look for any parent trying to provide nourishing meals without having to break the bank.
If you want to try Thrive Market, you can get 40% OFF (no code needed) by signing up using my affiliate link.
Breakfast with kids|Breakfast Recipes
Finding simple breakfast ideas is becoming so easy with the use of Pinterest.
Using Pinterest to get ideas is a great way to find quick and healthy breakfast meals that your family will love.
From smoothie bowls to egg muffins, and everything in between, Pinterest makes it so easy to find delicious breakfast recipes quickly.
So if you're looking for new ideas for a nutritious breakfast meal, try Pinterest!
It can help you get creative with your planning. Plus, you can easily save the recipes you find to refer back to later.
It's a great way to have breakfast meal ideas at your fingertips!
In addition to Pinterest, tons of cookbooks and websites offer amazing breakfast recipes with easy-to-follow instructions.
You can find me over on Pinterest as well sharing ideas and saving some of my top pins.
Follow me on Pinterest if you are looking for more ideas.
Foods to Avoid for Breakfast with Kids
Breakfast is an important meal for kids, giving them the energy they need to start their day.
Unfortunately, many breakfast food choices can be unhealthy and even harmful to children's health.
You should to be aware that certain foods should be avoided to keep your child as healthy as possible.
Avoid breakfast foods such as sugary cereals, pre-packaged pastries, highly processed food items like doughnuts, sugary juices, sugary oatmeal, or anything with high amounts of sugar.
These types of foods are high in salt, fat, and sugar – all nutrients that are not recommended for the growing bodies of our children.
They are generally full of added sugars, preservatives, and unhealthy fats that may lead to nutritional deficiencies and health problems as children grow.
Instead, focus on providing healthy breakfast options mentioned above for your child that includes healthy fats, protein, and carbs.
In my recent recent post, I go over the top foods you should avoid feeding your child. If you are interested in learning more about the foods to avoid feeding your child, check that post out.
Educating yourself on the importance of nutrition in a child's health is a vital step parents can take toward keeping their little ones strong and healthy!
Breakfast with kids Related articles
What is your Best Breakfast with Kids? Leave your comment below.