Last updated on June 15th, 2023 at 04:11 pm
How to Make Gluten free dairy free banana bread| Muffin Tops Recipe
One thing that I enjoy is getting creative with foods before they go bad to prevent waste. Here is a quick and healthy recipe for Banana Bread Muffin Tops or Banana Bread Donuts just for you!
This gluten free dairy free banana bread or muffin tops recipe is all you need for quick and healthy snacks and it is even perfect for your kid's breakfast.
Banana bread is classic comfort food, and it's especially popular with kids. They're perfect for a quick breakfast or snack, and you can customize them with your favorite add-ins.
Plus, they're gluten-free and dairy-free, so they're perfect for kids on special diets.
As the parent of a child on the autism spectrum, you know that providing nourishing food and nutrition is one of the most important steps to helping your kid thrive.
But if your family is living with gluten sensitivity or celiac disease, finding healthy and delicious gluten-free recipes can be tricky!
Today we're diving into how to make delicious gluten-free banana bread muffin tops. Not only are these bite-sized treats easy to transport for a busy mom like yourself, but they also provide key sources of nutritious vitamins and minerals from fruits such as bananas that can benefit your kiddo's health in major ways.
Read on for our step-by-step guide about how to make this easy recipe – let's get baking!
Benefits of gluten-free foods to Kids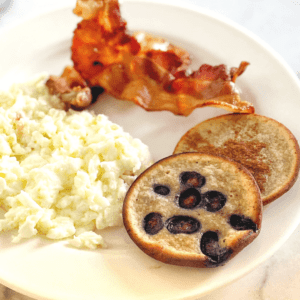 Gluten-free diets are becoming increasingly popular among people of all ages due to their many health advantages.
Kids can benefit greatly from gluten-free foods, especially those who suffer from celiac disease or gluten intolerance.
Gluten-free diets may also improve a child's digestive system and help eliminate chronic constipation.
Furthermore, eliminating gluten from your child's diet may lead to fewer stomach aches, improved mood, and increased energy levels for many children.
Ingredients for Gluten free dairy free banana bread|muffin tops
Gluten-free banana bread muffin tops make for a delicious and healthy alternative to traditional baked goods.
To make these scrumptious treats, you'll need a number of important ingredients. First and foremost, you'll need ripe bananas, which will serve as the primary sweetener and give your muffin tops their distinctive flavor.
Additionally, you'll need gluten-free flour, baking powder, salt, and cinnamon to create the perfect blend of flavors and textures.
Finally, you'll need eggs, and coconut oil to bind everything together and add moisture to the mixture.
By combining these ingredients and following a simple recipe, you'll be able to create a batch of gluten-free banana bread muffin tops that are sure to impress your friends and family.
Note: You can use different toppings of your choice.
You can find most of the mentioned gluten free ingredients at Thrive Market. You can use my affiliate link to sign up for Thrive Market and you will get 40% OFF your first order. (no code needed)
How to prepare the batter and bake it in a muffin tin
Baking muffins is a great way to satisfy your craving for a sweet treat. However, preparing the perfect muffin batter requires a little bit of skill and patience.
To start, gather ingredients such as flour, sugar, baking powder, and eggs to create a base for your batter.
Once you've mixed these ingredients together, add any additional ingredients.
Then, fill your greased muffin tin with the batter, making sure to leave a little room at the top for the muffins to rise.
Bake the muffins in the oven at 375 degrees Fahrenheit for 20-25 minutes, or until a toothpick comes out clean when inserted into the center of the muffin.
Once the muffins are finished baking, allow them to cool for a few minutes before removing them from the muffin tin.
With these simple steps, you'll have delicious muffins that are sure to satisfy any sweet tooth!
How to store and serve muffins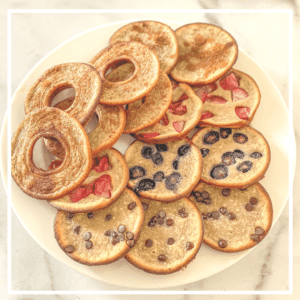 As someone who enjoys baking muffins, I understand the importance of storing and serving them properly to ensure that their taste and texture are preserved.
One tip is to allow the muffins to cool completely before storing them in an airtight container or a zip-lock bag.
To reheat them, wrap them in a damp paper towel and microwave them on low for a few seconds.
Alternatively, you can use leftover muffins as a delicious topping for yogurt or oatmeal, adding a crunchy texture and subtly sweet flavor to your morning meal.
These simple tips can help you make the most out of your muffins and ensure that they continue to be a tasty treat after they're baked.
The nutritional benefits of adding nuts, seeds, or dried fruit to the recipe
Nutritionists agree that incorporating nuts, seeds, or dried fruit into your meals is a smart way to improve your diet.
Not only do these ingredients add texture and flavor to any recipe, but they also come packed with important nutrients that your body needs to function properly.
Nuts, for example, are a great source of heart-healthy fats and can help lower cholesterol levels.
Seeds, such as chia or flaxseed, are high in fiber and can aid in digestion.
Dried fruit, like apricots or raisins, are loaded with antioxidants and vitamins that can boost immune function.
By incorporating these ingredients into your cooking, you can easily and deliciously improve your overall health.
Creative ideas for customizing your muffins by experimenting with different types of flour combinations
Experimenting with different types of flour combinations is a great way to add an extra layer of creativity to your muffins.
By substituting a portion of the all-purpose flour with other flours such as almond, coconut, or even cassava flour, you can create unique and delicious muffins with a more complex flavor profile.
Not only can these flour combinations add interesting textures and flavors to your muffins, but they can also be a great way to cater to specialty diets such as gluten free or paleo.
So, don't be afraid to try out new flour combinations and let your creativity flourish in the kitchen!
Gluten-free banana bread muffin tops are a delicious and healthy snack perfect for kids of all ages.
Not only are they easy to prepare, but you can customize them to your own tastes with different combinations of flour and the addition of nuts, seeds, or dried fruit.
Thanks to their small size, they store well in an airtight container and can be eaten cold, reheated in the oven, or served on top of yogurt or oatmeal.
With all of these benefits in mind, why not try making gluten-free banana bread muffin tops for your family today? And why stop there?
If you are looking for more gluten free recipes to make with your family or friends, check this out for even more delicious recipe ideas!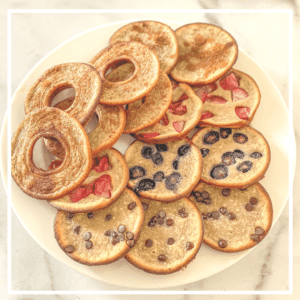 Banana Bread Muffin Tops or Banana Bread Donuts
This recipe for banana bread muffin tops is perfect if you're looking to make a healthier version of your favorite breakfast treat, without sacrificing any flavor!
Instructions
Preheat the oven to 375 degrees Fahrenheit.

In a medium bowl, combine the arrowroot flour with cassava and nut flour. Then add baking powder for an extra boost in flavor! Mix well so that all ingredients are combined evenly.

In a large mixing bowl, combine all of the wet ingredients for this recipe. The bananas will turn into an even more delicious and smooth consistency when they're mashed with eggs!

A few tips: use coconut oil instead if you don't want any dairy products in your diet; use apple sauce as a sweetener if you would like.

Then add the dry ingredients and stir well.

Using a Muffin Top pan or Donut plan, spoon your batter into the pan. Note: you can fill the muffin top or donut pan to the top because they will not rise too high.

Now it's time for your favorite toppings! I added my preferred toppings like the dairy-free chocolate chips and stir just enough so they are fully mixed in with everything else.

Bake until the top turns brown and the toothpick comes out clean. 350 degrees for 20-25 minutes

After they are done you can let them cool and they will be ready to serve! Note: They come out thin but are very tasty. You will enjoy the flavor. This recipe made 12 muffin Tops and I had extra batter to make some using a donut pan.
Nutrition
Calories:
177
kcal
Carbohydrates:
21
g
Protein:
2
g
Fat:
10
g
Saturated Fat:
8
g
Polyunsaturated Fat:
0.4
g
Monounsaturated Fat:
1
g
Trans Fat:
0.004
g
Cholesterol:
41
mg
Sodium:
96
mg
Potassium:
129
mg
Fiber:
2
g
Sugar:
4
g
Vitamin A:
81
IU
Vitamin C:
3
mg
Calcium:
76
mg
Iron:
1
mg
Gluten free Dairy free Recipes:
If you tried this Gluten free dairy free banana bread Recipe. Let me know in the comment.