Last updated on June 29th, 2023 at 03:57 pm
Is Butcher Box Worth It? | Best Butcher Box Reviews 2023
Disclosure: There are affiliate links in this post. If you click the link and buy something, I might get a commission at no additional cost to you! I want to make it clear that this post is not sponsored by ButcherBox. As someone who has been using their service for a few years, I have firsthand experience with the quality of their products and the convenience of their delivery system. In this honest review, I will share my thoughts on ButcherBox and whether it's a worthwhile investment for meat lovers.
What is the Butcher Box?
Butcher Box is a monthly subscription service that delivers premium, humanely-raised meat directly to your doorstep. They offer a variety of box options, from "classic" boxes with high-quality cuts of beef, pork, and chicken to specialty boxes featuring grass-fed beef or wild ocean seafood. From whatever frequency you prefer, ButcherBox allows you to choose a new selection of cuts so that you will never get bored. Read more as we explore Butcher Box reviews —what it offers, how much does ButcherBox cost, its selection, and ButcherBox review ––to help you decide if it meets all your needs.
ButcherBox prides itself on being able to provide consumers with the highest quality meat available without compromising animal welfare.
All their meats come from farms that adhere to strict humane standards and are free of antibiotics and added hormones.
In addition to providing high-quality meat, ButcherBox also makes it easy for consumers to order and receive their deliveries.
They offer flexible subscription plans that can be customized according to your preferences, budget, and dietary needs.
Butcher Box | Meat Subscription Box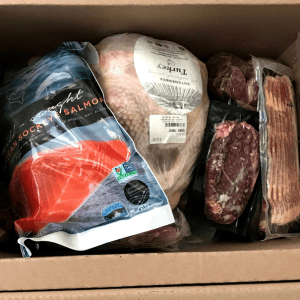 Butcher Box is an online meat delivery service that's perfect for people who lead busy lives but still want high-quality meat products straight to their doorstep.
What I really enjoy about Butcher Box is the fact that they allow you to do everything online with a few clicks.
You change your order date by just logging into the website and selecting a new date on the calendar.
Being able to select when your order processes help a lot when it comes to budgeting for food.
Not only can you select your dates but you can also change your selection cuts up until your order processing date which is great for meal planning.
During the holiday season, you will find seasonal meats such as turkey, ham, lamb, prime rib, and many other seasonal items.
So what makes this meat delivery service so unique and worth consideration?
Is Butcher Box Organic?
The company prides itself on sourcing only the best organic, grass-fed, and grass-finished beef, free-range organic chicken, and heritage breed pork.
All of their meat is free from any added hormones, antibiotics, and other additives.
This simplifies the selection process for consumers purchasing organic, ethically-sourced meats.
Additionally, they offer a unique selection of cuts that can sometimes not be found in grocery stores.
With Butcher Box, you'll never have to worry about settling for lower-quality supermarket meats or wasting time driving to the butcher again.
Overall, Butcher Box is a convenient and reliable way to get delicious, healthy meat without sacrificing quality.
What is the Butcher Box? How does it work?
If you're a meat lover looking for high-quality, organic meat delivered straight to your doorstep, Butcher Box is your answer.
To get started, simply choose a box size and select your preferences for meat types and cuts.
Then you decide how often you would like to receive your box of choice.
All their boxes allow you to select add-ons which are additional meat cuts for an additional cost.
You can also shop member deals and find discounted cuts each month.
This is a great way to stock your freezer for a lower cost.
Once you make your selections, Butcher Box takes care of the rest. Your order will be shipped frozen in an insulated box directly to your doorstep for whatever frequency you selected.
How Much is Butcher Box a Month? Butcher Box Plans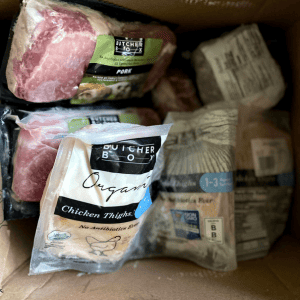 If you're curious about how much is butcher box subscription, look no further.
Butcher Box offers a variety of plans to fit different needs and budgets.
As of today, Butcher Box offers 4 box options. They have the custom box, mixed box, beef and chicken box, and a beef and pork box.
The price range is $146-$306 depending on which box you choose.
Their subscription plans vary depending on the amount of meat you desire, and the frequency of deliveries.
All boxes come with free shipping, so you won't have to worry about additional costs at checkout.
Whether you're the head chef of your household or simply looking for a convenient way to enjoy quality meat, Butcher Box is definitely worth considering for its high-quality offerings and flexible subscription options.
Is Butcher Box a Good Deal?
If you're someone who enjoys high-quality, ethically sourced meat, it may be worth considering Butcher Box.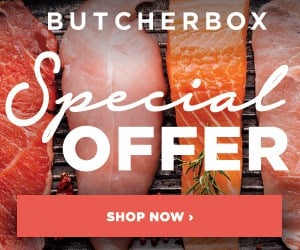 With so much going on in today's world, everyone should be taking a closer look at their meat source.
I feel Butcher Box can be a very valuable investment to those that put priority on their health.
High-quality, ethically sourced meat might come with a slightly higher price than traditional grocery store meat; however, in the long run, your health might suffer which could cost you even more money.
I personally have found that the butcher box is well worth the money and time saving that it provides my family.
Not all the time can you find high-quality meats at your local grocery store, and with butcher box, I can rest knowing I am getting the best quality.
While the cost may seem to be higher at first, the convenience and assurance of knowing the meat is of exceptional quality are well worth the investment.
Additionally, Butcher Box often offers promotions and discounts, making it a good deal for those looking to try out the service.
First-time customers can try Butcher Box and receive $50 off their first Butcher Box.
Butcher Box Meat Selection
Butcher Box offers a variety of beef cuts such as sirloin tips, ground beef, tri-tips, burgers, ground sirloin, chuck roast, steaks, filet mignons, and many other beef cuts.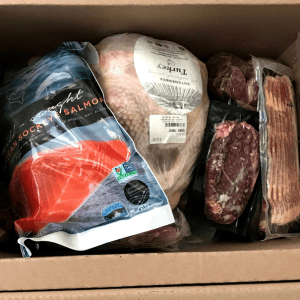 In addition to beef, they offer several free-range chicken cuts such as chicken breasts, tenders, thighs, drumsticks, wings, and whole chicken.
Humanely raised pork cuts are available such as ribs, loins, sausage, chops, roast, bacon, and many other options.
Seafood offerings include salmon, scallops, cod, shrimp, and many other wild-caught seafood options.
ButcherBox Discount Code
If you are like me, you want a discount so that you can try it out before you commit to Butcher Box.
One thing that I really enjoyed about Butcher's Box is the fact that they offer first-time customers a great discount on the first order.
This will allow you to see if you like Butcher's Box saving money before committing.
First-time customers can get $50 off their first order using this special offer.
At Butcher Box, you can find high-quality, grass-fed beef, free-range chicken, and pasture-raised pork delivered straight to your doorstep.
With a subscription model, you can customize your box to fit your dietary preferences and needs.
Use the Butcher Box discount code to get $50 OFF your first box and get started eating better quality meat!
Butcher Box Subscription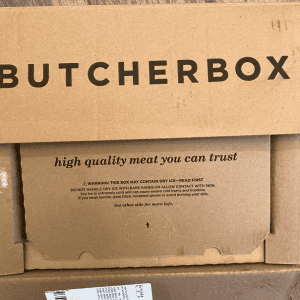 A Butcher Box subscription is a wonderful investment for meat enthusiasts who want to enjoy premium meat cuts on a regular basis.
How can you ensure that you're getting the most out of your subscription?
One tip is to plan your meals ahead of time, so you know exactly what meats you'll need for the week.
Another trick is to take advantage of the flexible delivery schedule, which allows you to adjust the frequency and contents of your boxes to your liking.
Lastly, be sure to pay attention to the date your order processes each month and make adjustments before that date to prevent getting cuts you don't need.
Try to experiment with different cooking methods and recipes, as there are endless possibilities with the high-quality meats you'll receive.
By utilizing these tips and tricks, you can truly maximize the enjoyment and value of your Butcher Box subscription.
Ultimately, Butcher Box is a great way to enjoy high-quality, organic, and grass-fed meats from the comfort of your own home.
There's a lot to like – from the convenience of having it delivered straight to your door, to the wide selection of delicious meals and recipes you can create with your food box.
Plus, with their current member deals that come out each month, you can save even more on your meats.
Butcher Box Reviews (2023)
I have been using the Butcher Box meat subscription service now for several years and I'd like to share my honest review of butcher box.
Overall, I found the experience to be quite convenient and the quality of the meats to be impressive. However, there were a couple of drawbacks that I encountered along the way.
One of the biggest pros of Butcher Box is the convenience it offers.
As someone who often finds grocery shopping to be time-consuming, having high-quality meats delivered straight to my doorstep was a game-changer.
It saved me from having to make frequent trips to the grocery store, which can be especially valuable when life gets busy.
Another aspect I appreciated was the ability to know what meats were coming in advance.
Butcher Box provides a clear order review of the contents of each box, this allows you to plan your meals accordingly.
This predictability helped streamline my meal planning process and eliminated the need to constantly think about what meats to buy.
Additionally, I was highly satisfied with the quality of the meats provided by Butcher Box.
They arrived in a well-insulated box, ensuring that they remained fresh and frozen during transit.
The meats themselves were of excellent quality, with a great taste and texture.
However, there were a couple of cons that I encountered with Butcher Box.
Firstly, at times, I found myself getting bored with some of the meats included in my subscription especially if I forgot to change them.
To combat this, I would often explore their member deals to switch things up and introduce variety into my meals.
While this was a minor inconvenience, it did provide a solution to my desire for more diverse options.
Another downside I experienced was related to the ordering process.
If you forget to check your email or set a reminder to change your meat selection before the order processing date, you might end up receiving the same meats as the previous month.
This lack of automatic selection customization could lead to a repetitive meat selection if you're not diligent about keeping track of the ordering schedule.
In conclusion, Butcher Box offers a convenient and high-quality meat subscription service.
The convenience of having meats delivered to your door, the advanced knowledge of the contents, and the exceptional quality of the meats make it a standout option.
If you're looking for a reliable meat subscription service, Butcher Box is definitely worth considering.
After reading butcher box reviews, you can sign up today and start enjoying the many benefits that come along with your Butcher Box subscription cost!
Additional Resource:
Do Butcher Box reviews help you? Leave a comment below.