Last updated on June 2nd, 2023 at 11:10 am
Gluten Free Lunch Ideas for Kids | Meal Prep Lunch Ideas
Packing your kid's healthy school lunches at home. As a busy mom, I know how important it is to provide my kids with a nutritious lunch that will help them stay energized and focused throughout the day. After reviewing the school lunch menus regularly, I have concluded that if I want to make sure my kids are getting the nutrients they need to be successful, it's best to continue sending them to school with lunch.
The foods that are being served are probably one of the contributing factors to why many kids cannot stay on task throughout the day. They often lose focus and don't have the energy to keep up with the demands of the curriculum.
Not only does packing my kids' lunch save me money, but it also allows me to control the nutritional content of their lunches. In addition, when you pack lunch from home, you have more control over what your child is eating.
You can choose healthy and nutritious foods that will help your child grow and develop. You can also be sure that your child is getting enough to eat and that their lunch meets their individual dietary needs.
Finally, packing lunch from home gives you an opportunity to spend time with your child and teach them about healthy eating habits. Ultimately, packing lunch from home is a great way to save money, eat healthier, and bond with your child.
Packing your Kid Friendly lunch ideas for school
A nutritious lunch is an important part of a child's daily routine. It gives them the energy and nutrients they need to grow and develop. A healthy lunch also helps kids concentrate in school and perform better academically. Unfortunately, many kids do not get the nutritious lunches they need.
Some go to school without eating breakfast, while others eat unhealthy processed foods or sugary snacks. This can lead to problems such as fatigue, weight gain, and difficulty concentrating.
The good news is that there are simple steps parents can take to ensure their kids are getting the nourishment they need. Packing a nutritious lunch with fresh fruits, vegetables, lean protein, and healthy fats is a great way to start.
By taking these steps, parents can help set their children up for success both in and out of the classroom.
Gluten Free Lunch Ideas for Kids
As a parent, you want to make sure your child has a nutritious and filling lunch that will help them get through the school day.
But with so many options out there, it can be hard to know what to pack. Here are some of the best foods to include in your kid's school lunch: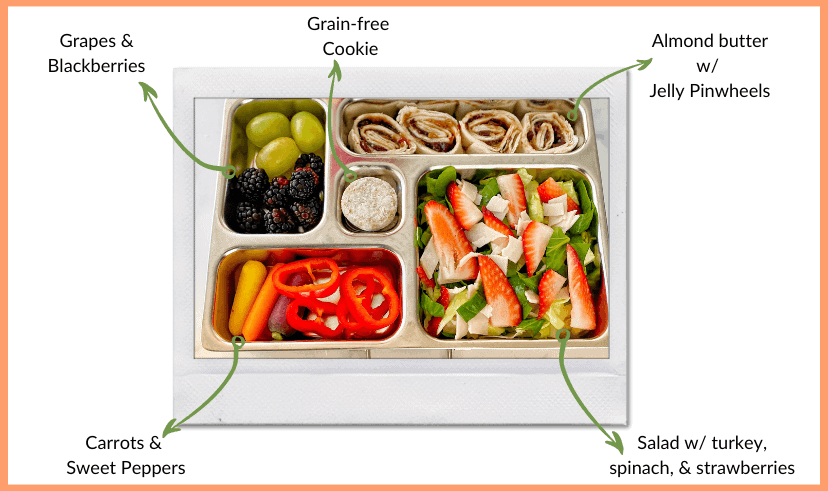 Healthy protein – Protein is essential for growth and development, so it's important to include a source of lean protein in your child's lunch. Good options include chicken, beef, turkey, beans, or hard-boiled eggs.
Healthy fats – Healthy fats are an important part of a child's diet, as they help with brain development and the absorption of vitamins. Include a source of healthy fat in your child's lunch, such as nut butter, avocado, olives, or olive oil.
Healthy Carbs-Fresh fruit and vegetables – These provide essential vitamins and minerals that are important for good health. Try to include a mix of both fruits and vegetables in your child's lunch for the most benefit.
Water – It's important to make sure your child stays hydrated throughout the day, so pack a water bottle along with their lunch. Encourage them to drink up!
Kids Lunch Ideas
It's important to make sure your kid's school lunch is both healthy and satisfying. A healthy lunch will provide the nutrients they need to grow and learn, while a satisfying lunch will help them feel full and focused until dinner time. Here are a few tips to make sure your kid's school lunch is healthy and satisfying:
Include a variety of food groups. Aim for extra fats and protein to keep your child satisfied and not crashing.
Let them help choose and pack their lunch. This will help them feel invested in eating it.
Choose items that are easy to eat and packed with nutrients. avoid processed foods, sugary drinks, and high-fat snacks.
Make sure perishable items are properly refrigerated. Food safety is important!
Avoid packing too much food. It can be tempting to want to send them off with a lot of food, but they likely won't eat it all – and you don't want it to go to waste.
Lunch Ideas for Kids |Tips for packing lunches
When it comes to packing lunch, there are a few things to keep in mind.
First, it's important to have a plan. Decide what you'll pack the night before or even a week in advance. This will help you make sure you have all the ingredients you need and avoid last-minute decisions that may not be as healthy.
Second, think about variety. Include a mix of fresh fruits and vegetables, fats, protein, and raw dairy (if your child tolerates it). This will help keep you feeling full and satisfied throughout the day.
Finally, don't forget to pack some healthy snacks for extra energy. Fruit bars, nuts, or seeds are all great options.
Quick back to school lunch ideas for kids
Ideas for quick and easy homemade lunches are definitely something that a lot of people are interested in. After all, who doesn't love the idea of being able to make their own lunch without having to worry about going out and spending a lot of money?
Plus, homemade lunches are often healthier and more delicious than anything you could buy at a restaurant. So, if you're looking for some quick and easy ideas for homemade lunches, here are a few of our favorites:
A simple salad made with greens, fruits, and nuts.
A wrap filled with your favorite organic deli meat, cheese, and veggies.
A bowl of soup or chili topped with shredded cheese and chopped green onions.
Roasted vegetables (cauliflower, broccoli, carrots, etc.) are served over quinoa or rice.
A grilled cheese sandwich or PB&J sandwich
An egg salad sandwich
A salmon or tuna salad sandwich.
Thickly sliced fruit (apples, bananas, oranges) topped with yogurt or nut butter.
Sliced veggies (carrots, celery, cucumber) with ranch dip or hummus.
A homemade "Lunchable" plate with crackers, cheese cubes, grapes, and turkey or ham slices.
A simple pasta dish made with jarred sauce and shredded cheese.
A quesadilla made with your favorite fillings (cheese, chicken, beans, etc.).
These are just a few ideas to get you started – the possibilities are endless! So get creative and enjoy whipping up your own quick and easy homemade lunches!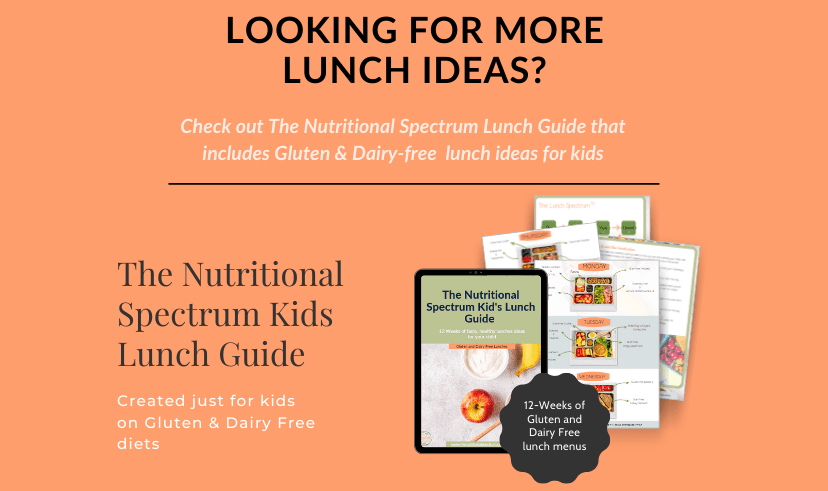 If you are looking for healthy lunch ideas for your kids, The Nutritional Spectrum Kid's Lunch Guide, includes 12 weeks of Gluten & Dairy-free School Lunch Ideas for your child.
This is just one way we help busy parents like you to make sure that your children get enough nutrients by providing them with easy alternatives that they will love as well.
Additional Resource:
If you find it hard to pack Gluten Free lunch ideas for kids, Leave a comment below.